Click on the links to the left for Commissions completed.
Artwork from different historical periods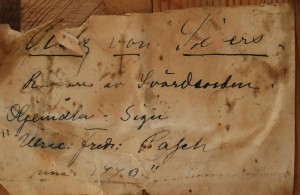 Photo: Ateljé Catellani - Living archives
Ateljé Catelloni has restored thousands of artworks over the years. The archives are intended to give a taste of the highly diverse range of artworks with which the studio has worked, according to the century in which they were painted. These examples typically represent the nature of the conservation and restoration work in words and pictures. Assignments involving analysis and identification are also described.